HDMI 5 x 1 Audio Extractor Converter Switch with Optical and L/R Audio Output (US)
Input: HDMI x 5; Output: HDMI x 1, Optical x 1, L/R 2RCA x 1
Supports 4K Ultra HD (4Kx2K@30Hz), 3D (1080p@120hz), Full HD (1080p@120hz)
Supports DTS-HD, Dolby TrueHD, DTS, Dolby Digital AC3, DSD, LPCM 7.1
Supports Audio Return Channel (ARC)
Supports HDCP 1.4
Videos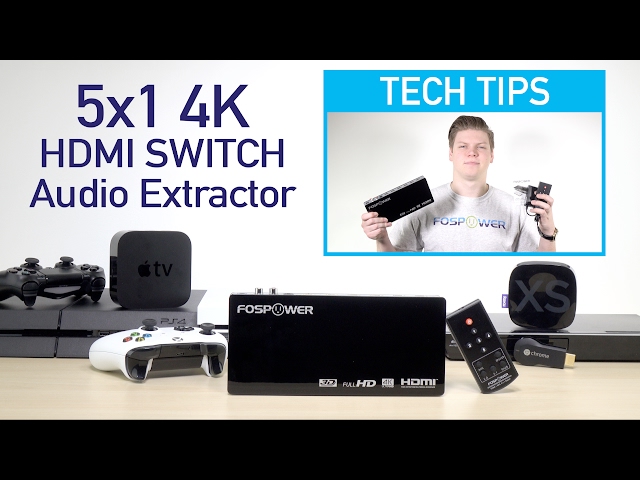 Featured In
"Best HDMI Switches"
by Best Advisor Read More
Availability:
Out of stock
More Ports, Less Clutter
FosPower HDMI audio extractor converter switch allows you to extract and convert digital signal from HDMI input to 5.1 channel digital surround on Toslink S/PDIF optical output or 2.0 channel analog stereo on L/R 2RCA output. It has a source select button on the switch and a remote control to provide flexibility for you to manually switch between five sources.
Top of the Line Features
FosPower HDMI audio extractor converter switch offers multiple features which include 4K Ultra HD, 3D, Full HD, and ARC support. It works with HDTVs, Blu-ray players, PlayStation, Xbox, Nintendo Switch, Amazon Fire TV and Stick, AppleTV, Chromecast, Roku, and other HDMI capable devices.
Limited Lifetime Warranty
This product comes with a limited lifetime warranty. Please refer to FosPower?s website for more information.
More Information
UPC
813154021797
Specifications
Features and Specifications:

Input: HDMI x 5
Output: HDMI x 1, Optical x 1, L/R 2RCA x 1
Resolution: 4K x 2K@30Hz, 3D@120Hz, 1080p@120Hz
Audio: DTS-HD, Dolby TrueHD, LPCM7.1
Audio Channel: HDMI Pass-through up to 7.1CH; Optical up to 5.1CH; L/R 2RCA up to 2.0CH
Supports Audio Return Channel (ARC)
Pixel Clock Rate: 300MHz max
Total TMDS Throughput: 9.95Gbps max
Supports HDCP 1.4
Dimension: 3.94 x 8.58 x 1.06in / 100 x 218 x 27mm
Weight: 10.37oz / 294g

In The Box:

FosPower HDMI 5 x 1 Switch with Optical and L/R Audio Output x 1
Power Adapter x 1
Remote Control x 1
User Manual x 1

Note:

HDMI, Optical Digital (SPDIF/Toslink), 2RCA cables and adapters are not included in the box.
Devices requiring HDCP 2.2 such as the Apple TV (4th gen) or Roku 4 will not be compatible.

2016 Edition Updates

IR Remote Control issues fixed
Upgraded firmware for higher compatibility with various HDMI devices

Color
Black / Silver